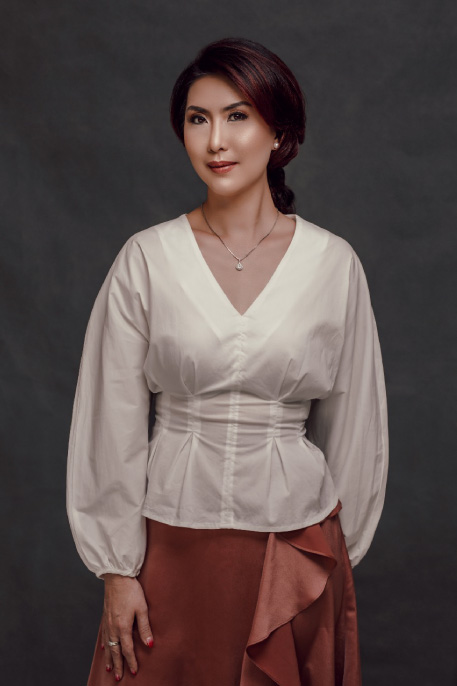 DOCTOR'S
PROFILE
Dr. Imelda Audry Chandra,
M.Biomed (AAM)
It begins when her father was suffered from illness, inspired Dr. Imelda Audry Chandra, M. Biomed (AAM) to enhance its experience in medical science further. After earned her Bachelor Degree on Medical Faculty at the Sam Ratulangi University, Manado, she continued her education journey by took a Master degree of Anti-Aging Medicine at Udayana University, Bali and graduated with fulfilling grades. She realized that anti-aging is crucial to be learned because it consists a wide scope of sciences. Therefore, anti-aging is the solution in dealing with a variety of medical problems including in aesthetics. Besides her father, dr. Imelda Audry Chandra, M. Biomed (AAM) also want to provide the best for her mother. This encouraged her to continue to learn more about anti-aging, especially aesthetics from all over the world. Therefore, she can give a maximum and also a balanced treatment, not only a treatment for outside the body but also a treatment for the body itself.
A combination of genetic, hormonal, medical science, nutrition, detoxification, and aesthetic procedures showed that the anti-aging is the best solution to the problems which can be occurred in the human body. Alongside with the proper and guaranteed aesthetic procedures, both are the perfect combination to achieve a balance in the body and face. This motivates Dr. Imelda Audry Chandra, M. Biomed (AAM) to explore further of the anti-aging and aesthetic world. For nearly two decades, Dr. Imelda Audry Chandra, M. Biomed (AAM) had plenty of experience in the world of anti-aging and aesthetic. She has gained a full trust not only from her patients but also in the medical field. Her professionalism made her be recognized in her field and trusted to be a trainer and speaker in several reputable anti-aging and aesthetic events such as talk shows, seminars, and conferences.
Furthermore, Dr. Imelda Audry Chandra, M. Biomed (AAM) became a member in the well-known organizations such as the PERWADERI (Persatuan Dokter Awet Sehat Republik Indonesia), IDI (Ikatan Dokter Indonesia), PERDESTI (Persatuan Dokter Estetika Indonesia), IKLASI (Ikatan Kedokteran Laser Indonesia), INCAAM (Indonesian Centre for Antiaging Medicine), ACNEM (Australian College of Nutritional & Environmental Medicine), and SAHAMM (Society for Advancement of Hormones & Healthy Aging Medicine Malaysia).
Although she has been well-known to be professional anti-aging and aesthetician specialist, Dr. Imelda Audry Chandra, M. Biomed (AAM) never forget her role as part of a social community. She is dedicating her life toward humanitarian activities proven by several charity programs that she has participated in. Aside from her activity in medicine and humanistic world, Dr. Imelda Audry Chandra, M. Biomed (AAM) also enjoy her role as a wife and mother.